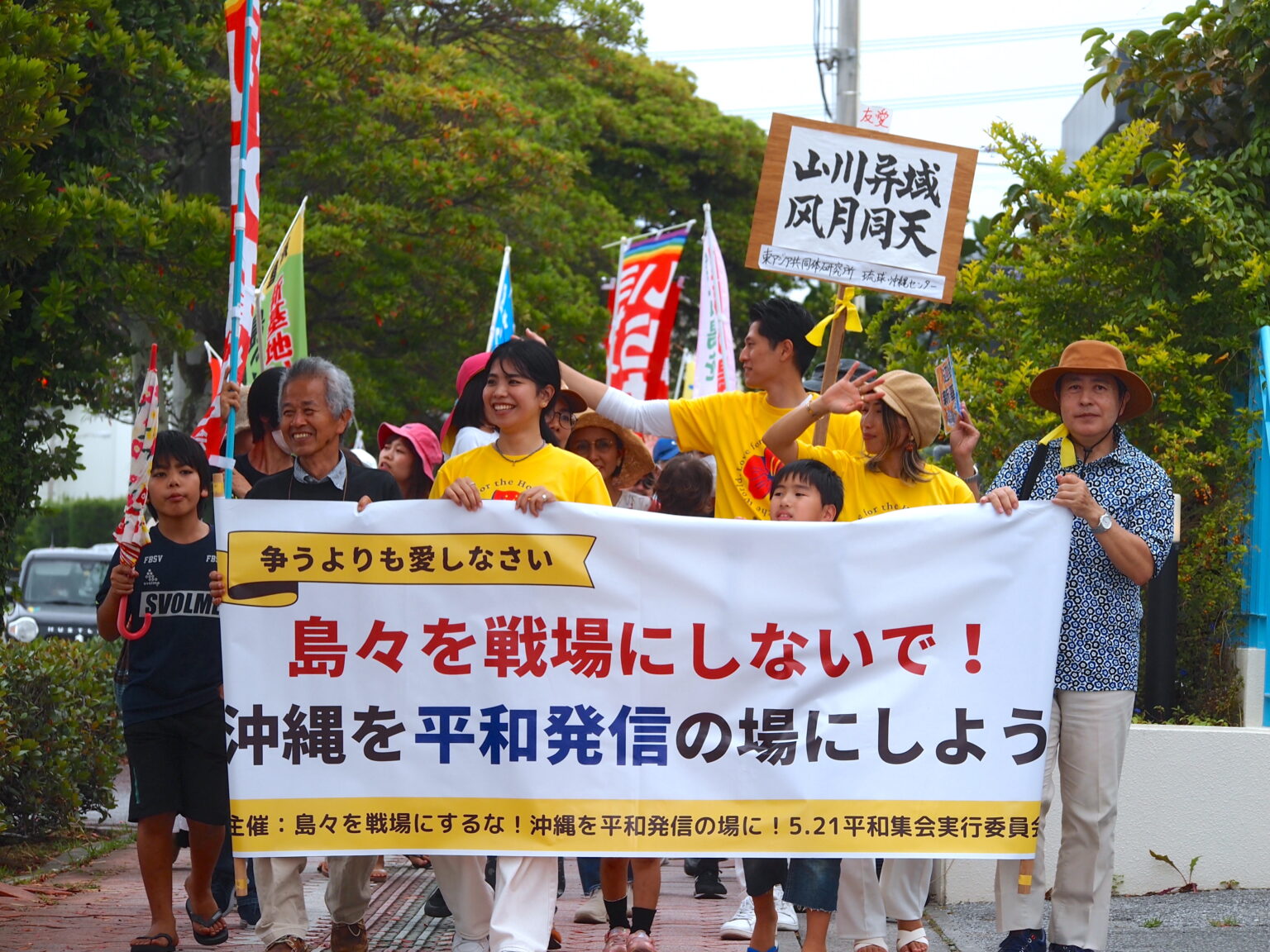 No to "Taiwan Contingency"! Do not repeat the Battle of Okinawa!
International solidarity against turning the Ryukyu Arc into a military fortress, for stopping the new base in Henoko, and for peace through dialogue!
Dear Mr. Joseph R. Biden President of USA
In anticipation of a "Taiwan Contingency," the U.S. and Japanese governments have repeatedly held large scale joint military exercises on the islands of the Ryukyu Arc (the Southwest Islands) and deployed long range missiles to further heighten military tensions with China. Military operations such as EABO  (Expeditionary Advanced Base Operations), which are conducted jointly by Japan and the United States  on islands where evacuation of residents is impossible, are illegal and disregard the principles of "civilian  protection" and "military-civilian separation" under international humanitarian law. The operation plan  should be withdrawn. The lives and livelihoods of about 1.5 million people living on the islands are exposed to  the risk of war. History also proves that an endless arms race leads to war. We must not repeat the tragedy of  the Battle of Okinawa, in which one in four residents were killed. Once an armed conflict occurs, military bases  that exist not only in Okinawa but also throughout Japan will become targets and be turned into battlefields.  Now is the time to shift to easing tensions and disarmament through thorough peace diplomacy.  
In addition, the new base in Henoko, which is being built as an "alternative facility" to the U.S. Marine  Corps Futenma Air Base, has various structural, environmental, and human rights problems. It should be  immediately suspended and withdrawn. Ground improvement work is impossible due to the soft seafloor that exists at a depth of 90 m. Therefore, even if it is completed, most of the seawall will collapse even in a relatively  weak earthquake registering 2 on the seismic scale. The ocean surrounding the site, which is home to more  than 5,300 species, including 262 endangered ones, designated as Hope Spot, will be destroyed. The  construction is being carried out in defiance of the will of the people, which Okinawans have repeatedly shown  in elections and referendums. A quarter of a century has already passed since the SACO agreement in 1996,  which promised to close Futenma within a few years. Recently, contamination by PFAS (organofluorine  compounds) has come to light in the vicinity of Futenma Air Station, and the damage local residents suffer  because of the base is expanding. There is no real solution other than abandoning the new base in Henoko  and immediately closing and removing the Futenma base.  
We request that the US government should:  
1) Halt Japan-US joint military exercises, joint use of bases, and the conversion of Japan  into missile bases nationwide in anticipation of a "Taiwan Contingency."  2) Abandon the construction of the new base in Henoko and immediately close and remove  the Futenma base. 
3) Rather than forming NATO in the Asia-Pacific region and intensifying tensions with  China, aim to ease tensions and disarmament through thorough peace diplomacy with  relevant countries in the region. 
4) Investigate the contamination status of PFA S (organofluorine compounds), detected not only around Futenma Air Base but also around U.S. military bases nationwide, and evaluate them  according to U.S. Environmental Protection Agency (EPA) standards.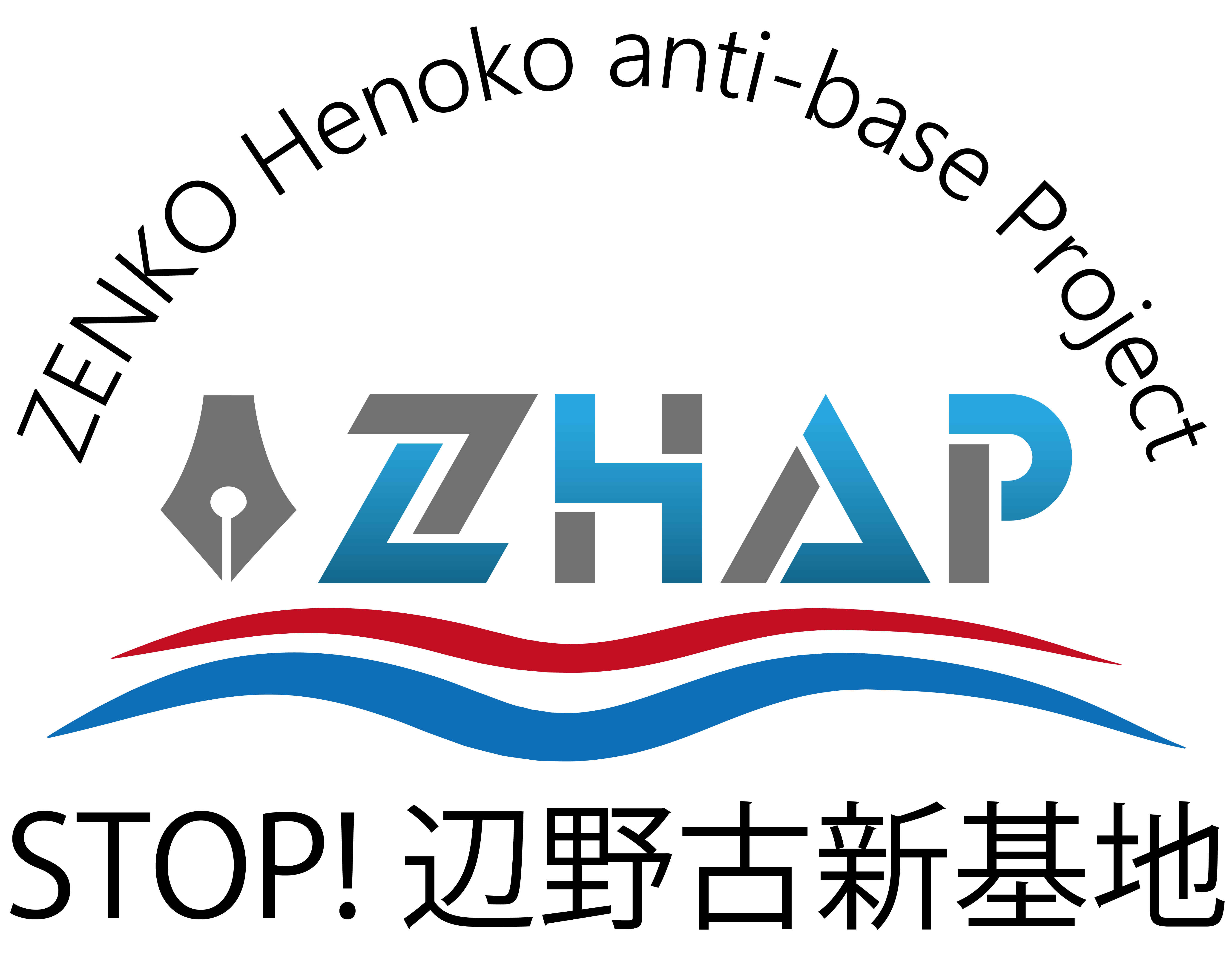 ZHAP(ZENKO Henoko Anti-base Project)
E-mail zenkoweb@gmail.com
HP https://zenko-peace.com/zhap
Contact
tel 090-1771-4150, Paramt. Bldg. 2F, 8-8 Senju-Sekiya-cho, Adachi-ku, Tokyo
tel.& fax 06-6931-0277: Lag Center, 1-6-21 Gamou, Joto-ku, Osaka